Analytics reports provide
you with reliable insights
based on accurate data
Analyze data on the effectiveness of your
customer acquisition activities. Learn from
these reports and improve your marketing
strategy
Book a 15 minute Demo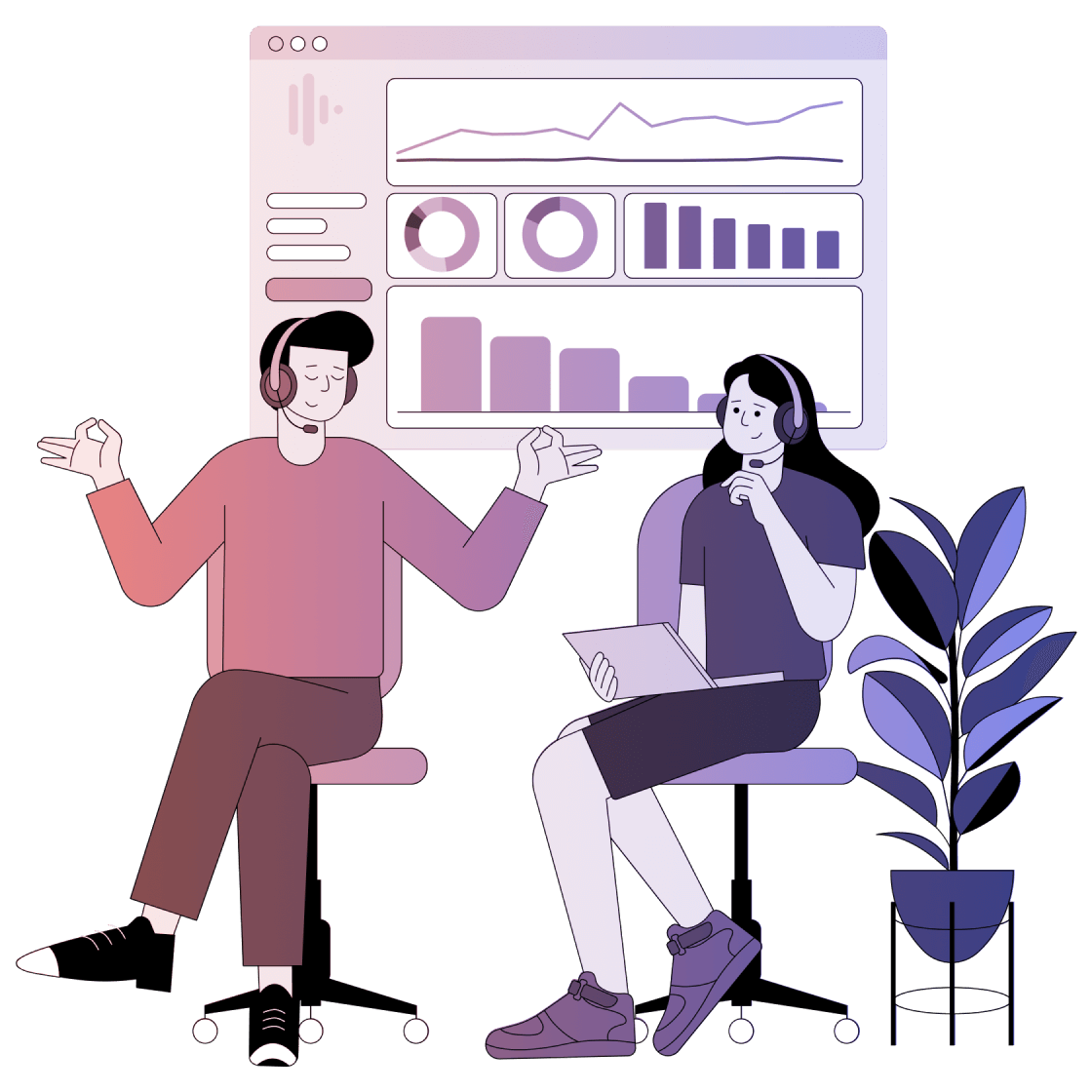 View a complete history of each
customer from the first visit to the
last purchase
Acquisition Reports
Analyze the number of calls generated from each advertising campaign or source, including PPC, influence marketing, offline ads, etc.
Analyze the effectiveness of your webpages. Collect customer data on geography, devices, browsers, etc. and compare different seasons, days of the week, times of the day, and more.
Identify traffic generating resources and stop wasting money on inneffective advertising.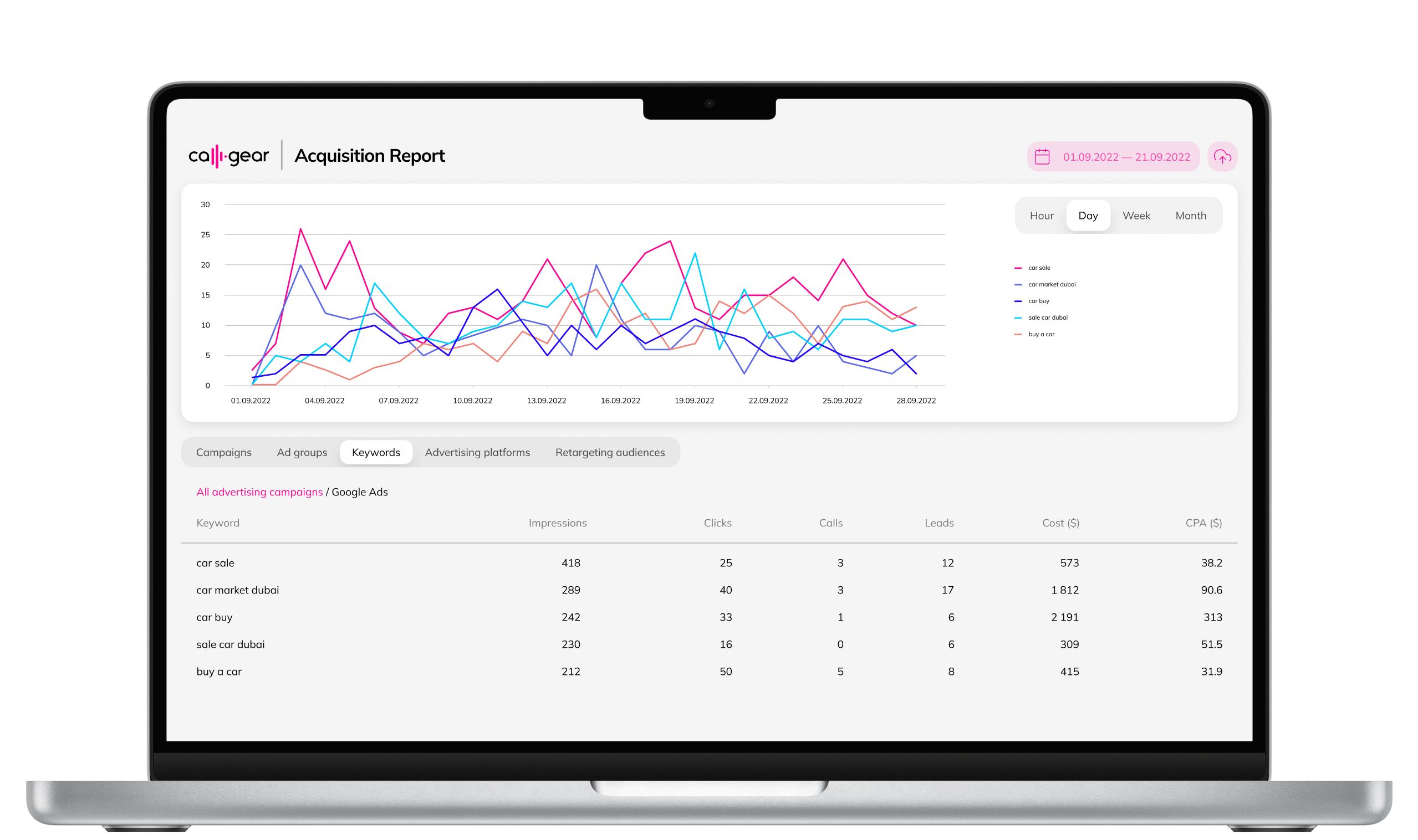 Website Visitor & Caller Data
Any time a form is submitted on your website or an inbound call is received, an individual contact card will be created in your CallGear account for that person.
You will be able to track:
User visit source
Advertising campaign
Device type, browser
Actions on the site
Search engine, key query
Demographic data
Session duration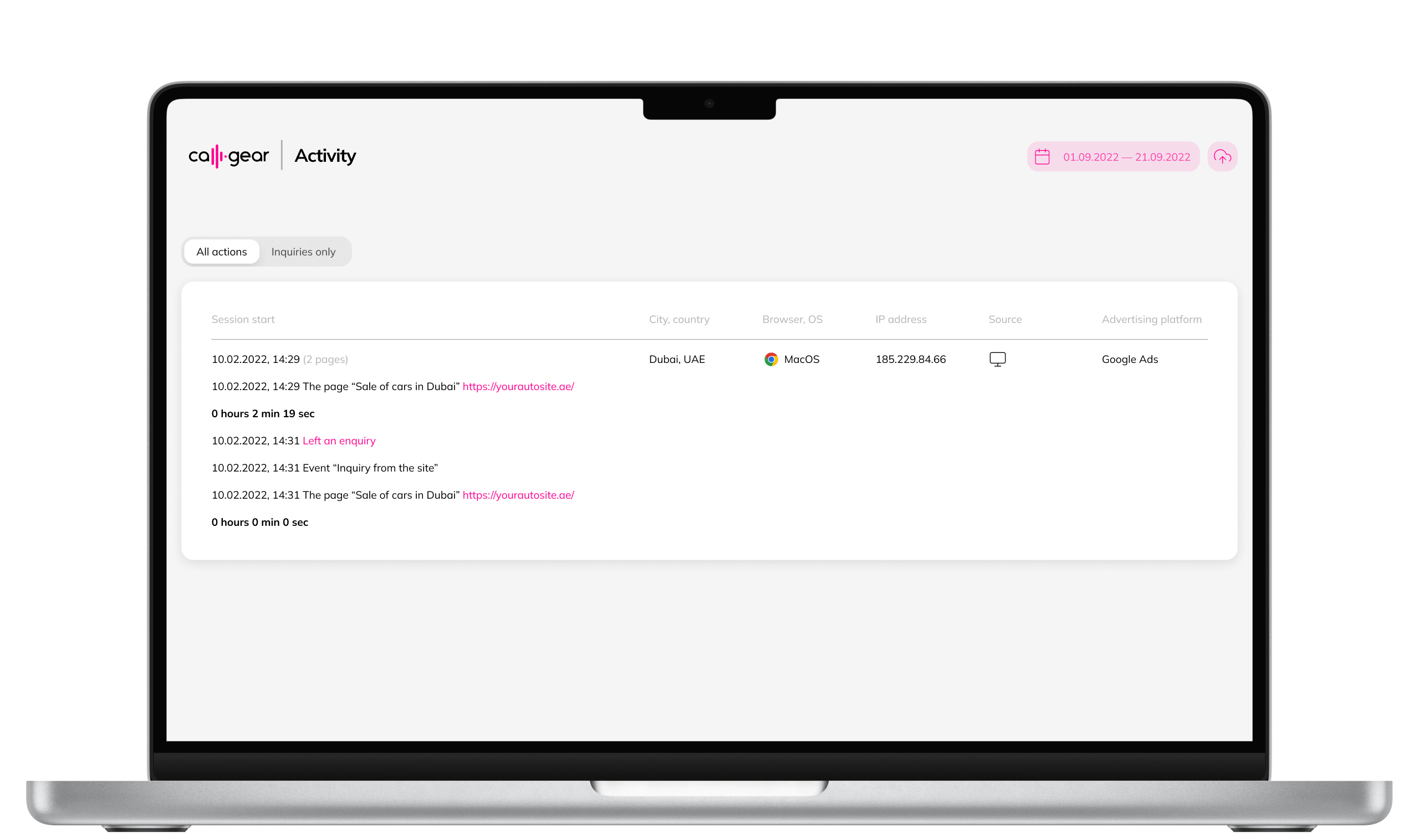 End-to-End Analytics
Learn all data starting from the initial marketing source customers came from to the conversion. Make informed, impactful business decisions.

In one real-time report you can evaluate the effectiveness of your PPC on the level of ad campaigns, keywords, site visits, online and offline sales, and detailed transactions.

Automatically calculate advertising performance indicators: cost per click (CPC), site visits, conversion from request to sale, ROI and more. Properly track every cost of acquiring a customer and optimize your marketing budget.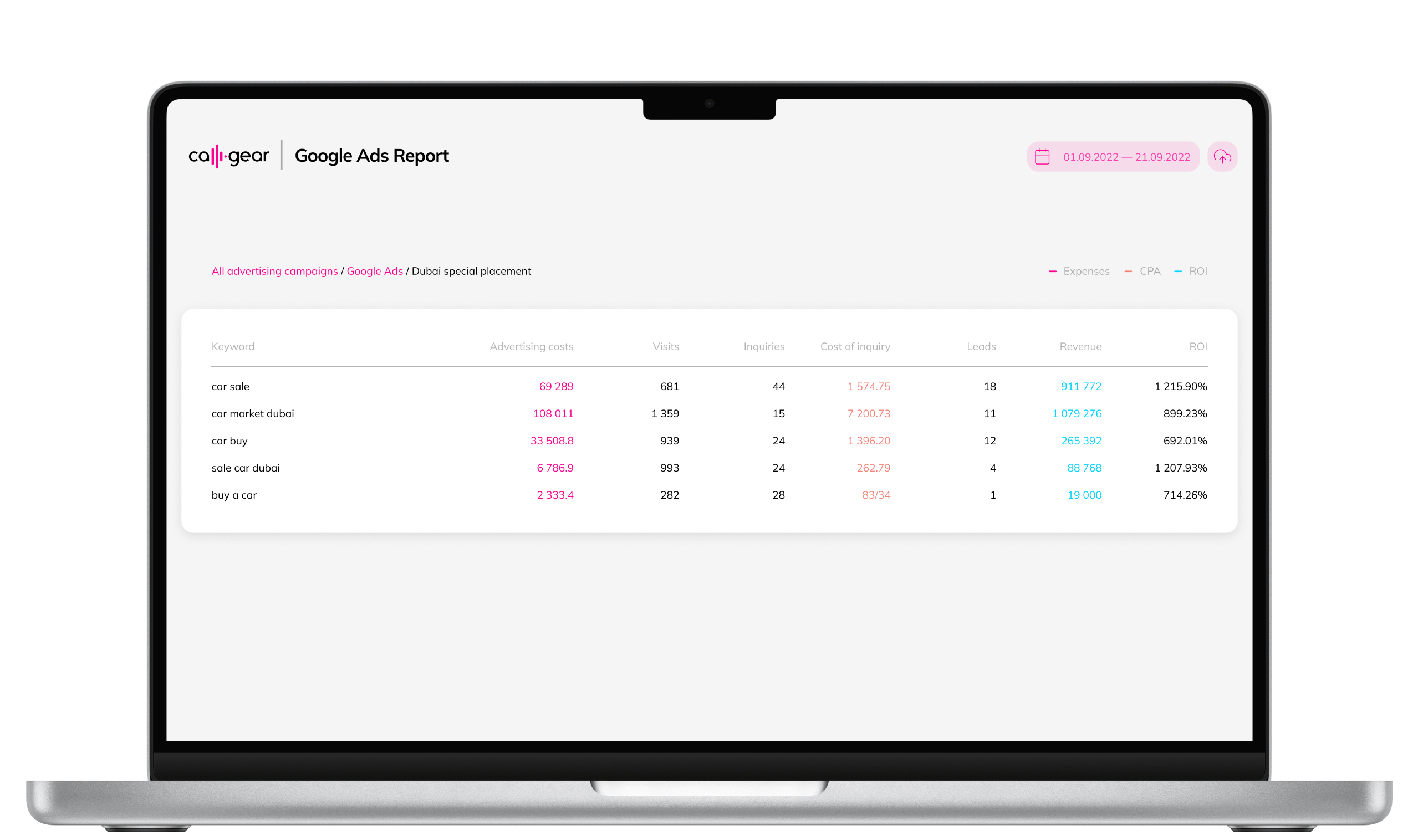 Deals Report
This report allows you to see:
Date when deal was closed
Period to close the deal
Type of request
Advertising campaign that generated this deal
Keywords used to attract clients
Deal value
and more customised details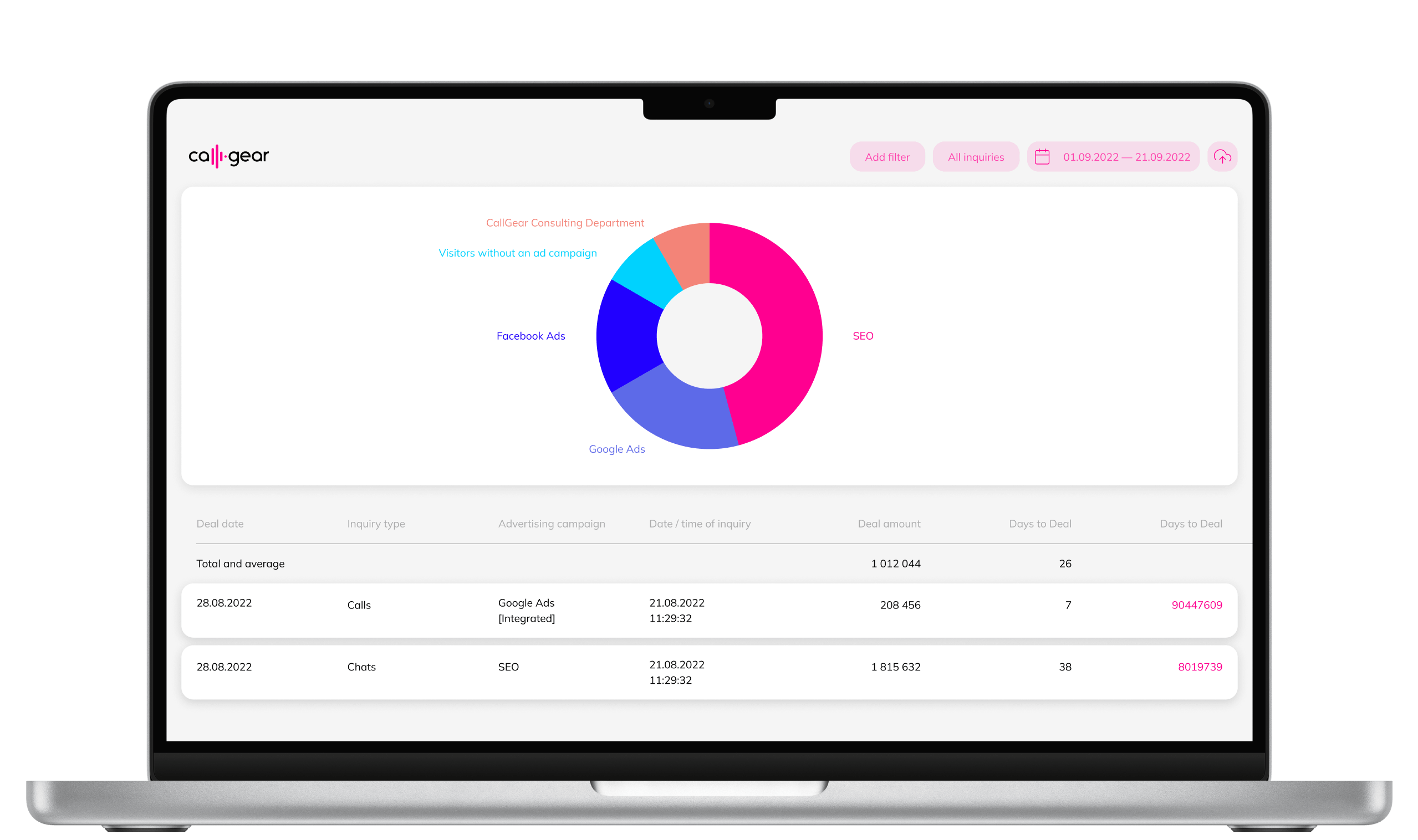 More amazing features for your business
to use with inbound notifications
More amazing features for your business
to use with inbound notifications
Fill out this form to explore all of our features and get a full product demo