Route the caller journey
from first ring to first
purchase with call
scenarios
Execute this plan in CallGear and connect each
caller with the right employee at the right time
Book a 15 minute Demo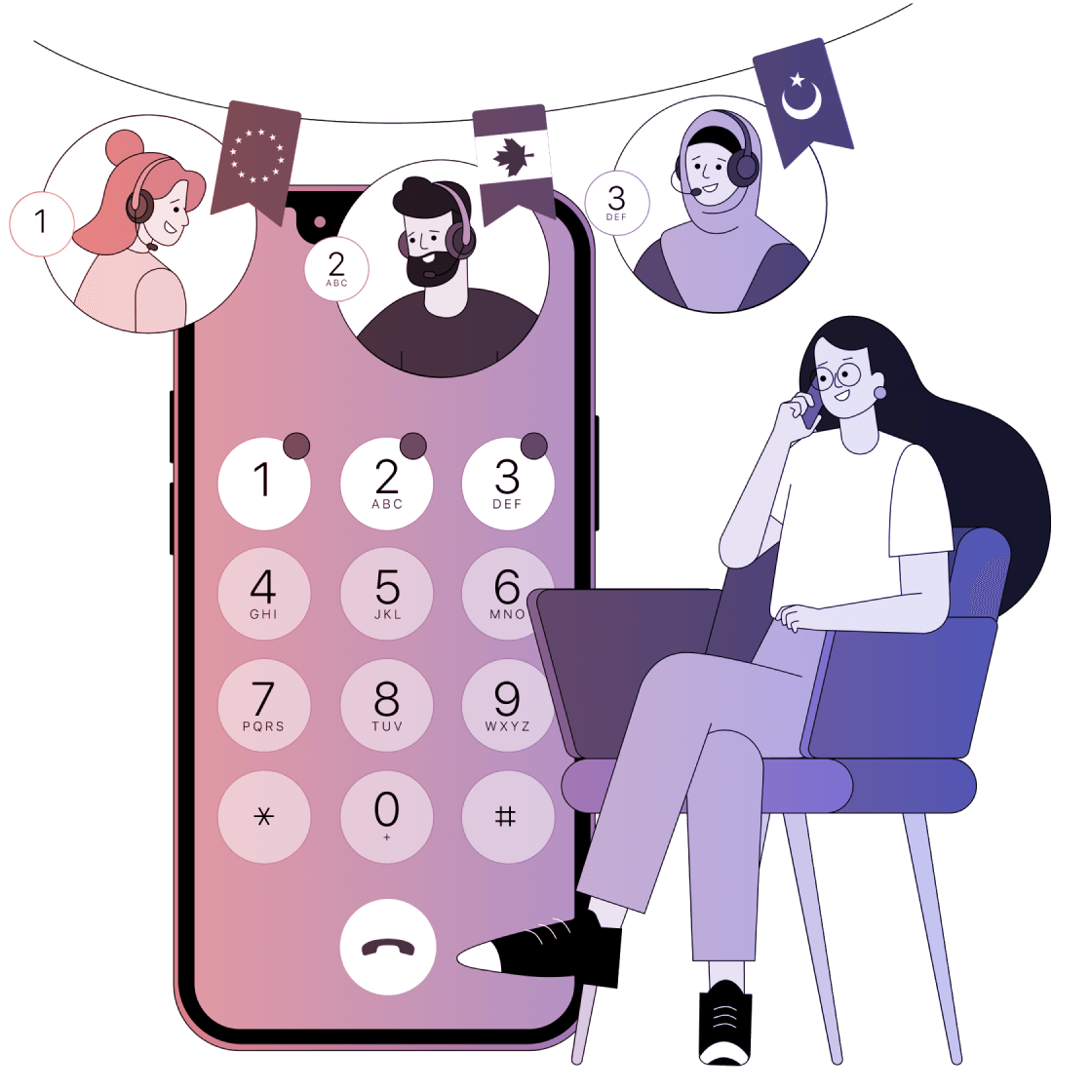 Call Scenarios are a sequential execution of call processing operations to ensure a caller is connected to an employee appropriately and efficiently
Track call indicators relevant to your
business activity
Forward the call to the right person
Automatically greet a caller, provide information, and suggest a further conversation scenario.
It can be a request to wait for the first released operator, or based on the specific options on the keypad a caller selects, it can automatically route a call to the right employee or department.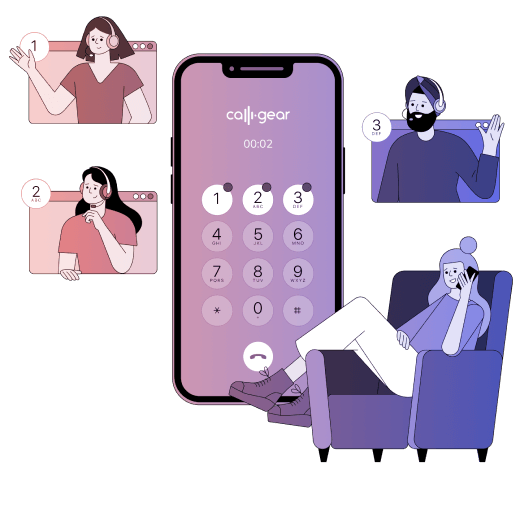 Route calls based on your employees' work schedules
Change the call scenario depending on the time of day. If a client calls on weekends, let them know that they will be contacted during office hours.
You can provide your customers with an even more personalized service, connecting them with someone they've already had communication with. This establishes trust and comfortability with a caller, and can lead to repeat purchases.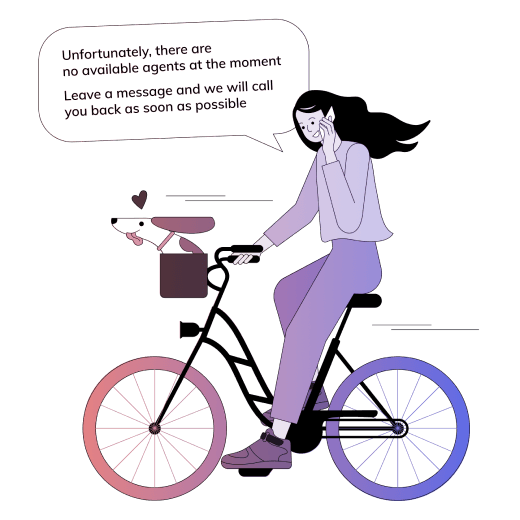 Arrange smart call distribution among managers
Optimize both the caller's and employee's time by distributing calls evenly across all employees whenever possible.
Use smart call routing to offices in different countries depending on the source of the call.
If multiple employees are available, connect a caller with whomever has a higher conversion rate.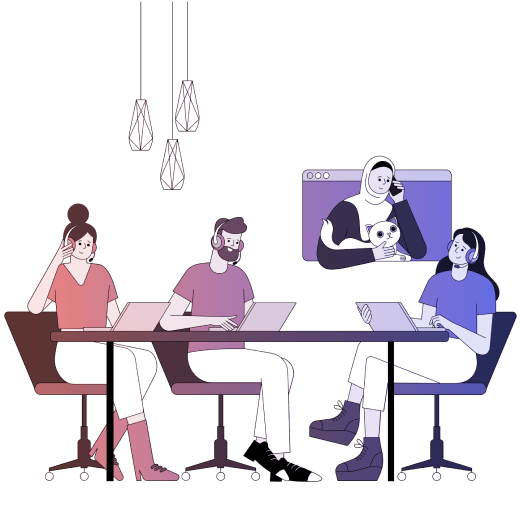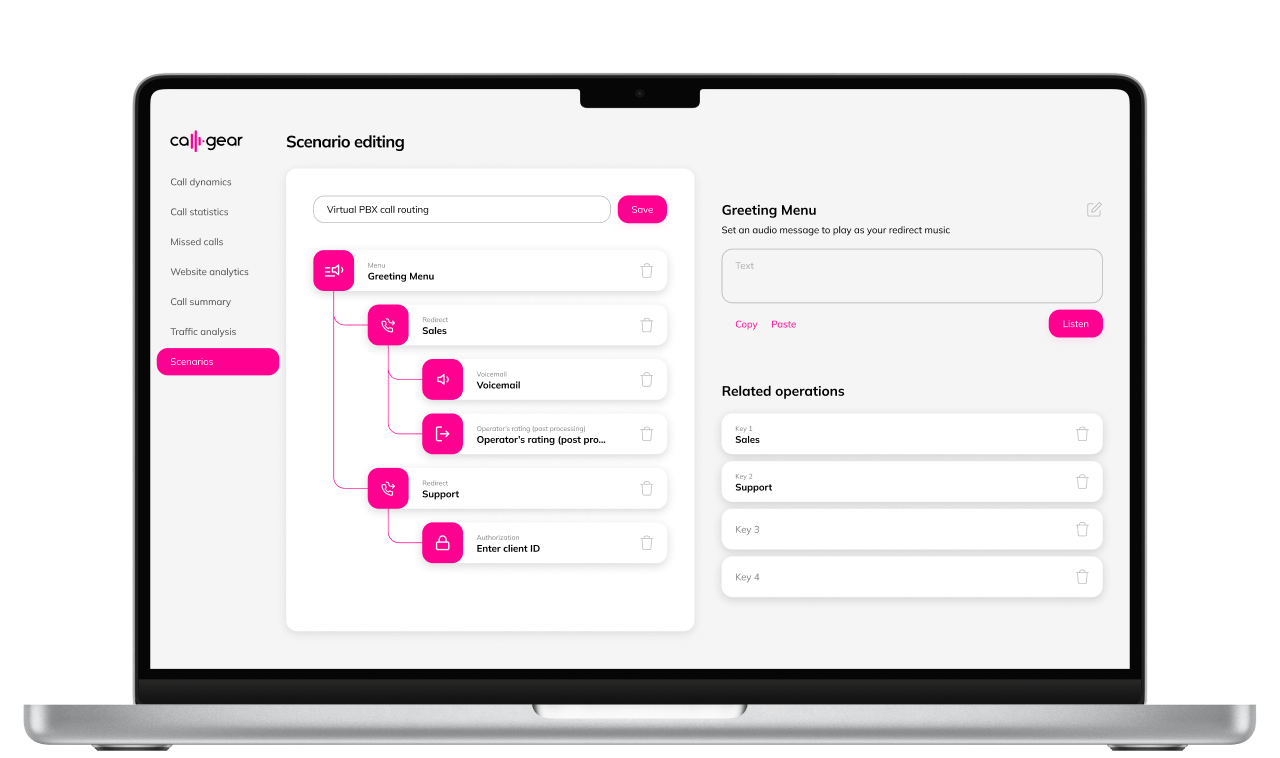 Setting up Call Scenarios
The customization process for each scenario consists of simple visual blocks in your CallGear software.

By dragging and configuring each of these blocks, you can manipulate the script.

An operation can route a caller to a department, send them an automated message, forward them to a specialist, reiterate company hours, etc.
Common questions about Call
Scenarios
What does Call Scenarios feature do?

The Call Scenarios feature helps establish effective algorithms, according to which all incoming calls to your office get distributed. This is an efficient way to optimize the time of your employees and customers alike – no call will end up in the wrong place, and no information will get lost in the process.
Why use Call Scenarios by CallGear?

The CallGear Call Scenarios feature is an invaluable tool for streamlining your incoming call processing routine. With its help, you can determine how your customers will be greeted, which IVR options they will be offered, where their calls will be forwarded to, and even which of your employees within a particular department should handle the call from a particular client.
More amazing features for your
business to use with call scenarios
More amazing features for your
business to use with call scenarios
Fill out this form to explore all of our features and get a full product demo