H
How does Digital Marketing affect the Home Care Industry in the UK?
Case study by Digital Agency Trinity:
Digital Agency Trinity has joined forces with McAlpine Care to launch an aggregator that will improve the way people search for home care agencies for the elderly.
What guided us to launch this project?
Digital analytics around home care was the driving force here. First, we learned that competition on Google is quite low. There are several regular players who invest in marketing and paid advertising for home care, but these marketing agency competitors of ours all shared an extremely low conversion rate from inbound calls and requests.
So at Agency Trinity, we used our international experience and expertise to create specific landing pages aimed at higher conversion rates. We saw positive results right away.
An additional positive factor was the choice of the name of our aggregator: 'Home Care Agency,' which allowed us to place ads on all home care queries, directing searchers to homecare.co.uk without violating rights, as the keyword "home care agency" is the most relevant among other high-frequency queries.
Next, we offered elderly care agencies free placement in the beta version of our project, which allowed us to collect about 40 agencies from the start, with the condition that each lead was transferred to the agency on a territorial basis, in exchange for royalties.
Website: homecare-agency.co.uk
Location: Central and North London
Target Audience:
-M/W 25-40 in search of care for their parents (85%)
-M/W 45+ in search of care for themselves (15%)
Placement Period: February-May
Budget: £3 000 with VAT
Marketing Tools: Google Ads, Google Analytics, CallGear, AmoCRM
As we analyzed other home care websites, we kept noticing long application forms for requests or even options to mail in requests, which are both inefficient and outdated forms of communication.
To give ourselves the edge, we put callback forms in each application form, while minimizing the number of fields to just 'name' and 'phone number.' By connecting a special widget "callbackform" from CallGear, we were amazed at how quickly we'd be connected to a potential client.
Instantly after filling out the form, a call would be automatically triggered simultaneously to both the sales manager and the client, showing a high level of interest from our company and drastically improving customer orientation, a major gap in the industry.
Analytics
End-to-end analytics on every lead was implemented on CallGear through their call tracking tool. All calls and requests were transferred to AmoCRM, and each client would be tagged depending on where they were in the buying process. In addition to AmoCRM, status-based requests were transmitted to Google Analytics, which was used for further audience analysis.
A-B tests
Our home care ad campaigns included testing multiple ads to identify the most effective form of advertising. We implemented these tests in Google Ads using various creative experiments.
We then identified the most effective combinations of titles and descriptions:
Ex. of the most effective ads:
Title: Home Care Agencies in London | Cost per hour from £18
Description: First-class care for the elderly at home 24/7.
Respectful/loving/caring/ friendly carers.
Title: Care homes in London | First 3 hours complimentary
Description: Comprehensive care for the elderly. Personal hygiene/meal preparation.
Problem #1:
During the ad process we encountered 2 problems. The first and main problem was the competition in this field. People who are looking for caregivers for themselves or their loved ones are also considering nursing homes. This meant we would be competing with nursing homes for such phrases as "caregiver for the elderly" and "home care". Because of this, getting to the #1 position in the search for high-frequency phrases became a difficult task.
Solution #1:
The solution was in middle and low search volume keywords. We reached fewer people, but were able to pinpoint more accurately targeted keywords for which ads were shown. This allowed us to buy clicks and impressions for less money, while maintaining relevance.
Problem #2:
The second problem we faced was one we're all currently facing: the pandemic. In the period from mid-March to May, we saw a rapid decline in both requests and impressions compared to the previous period.
Solution #2:
To combat this, we had a massive reduction in the roll-outs of our ad campaigns. We were able to lower our spend at the appropriate time so as to not waste any of our marketing budget, while still hitting relevant searches.
Funnel: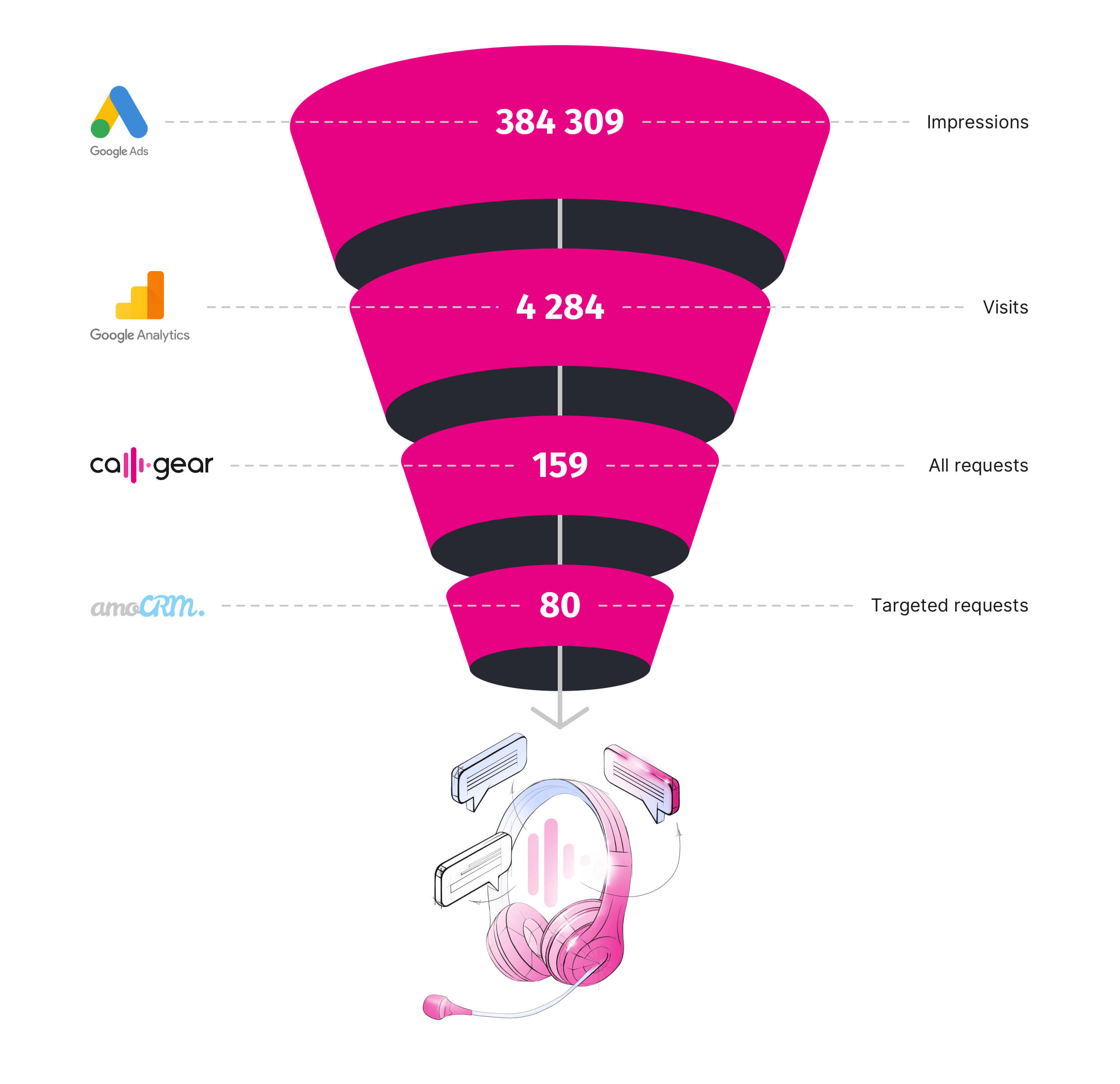 Results: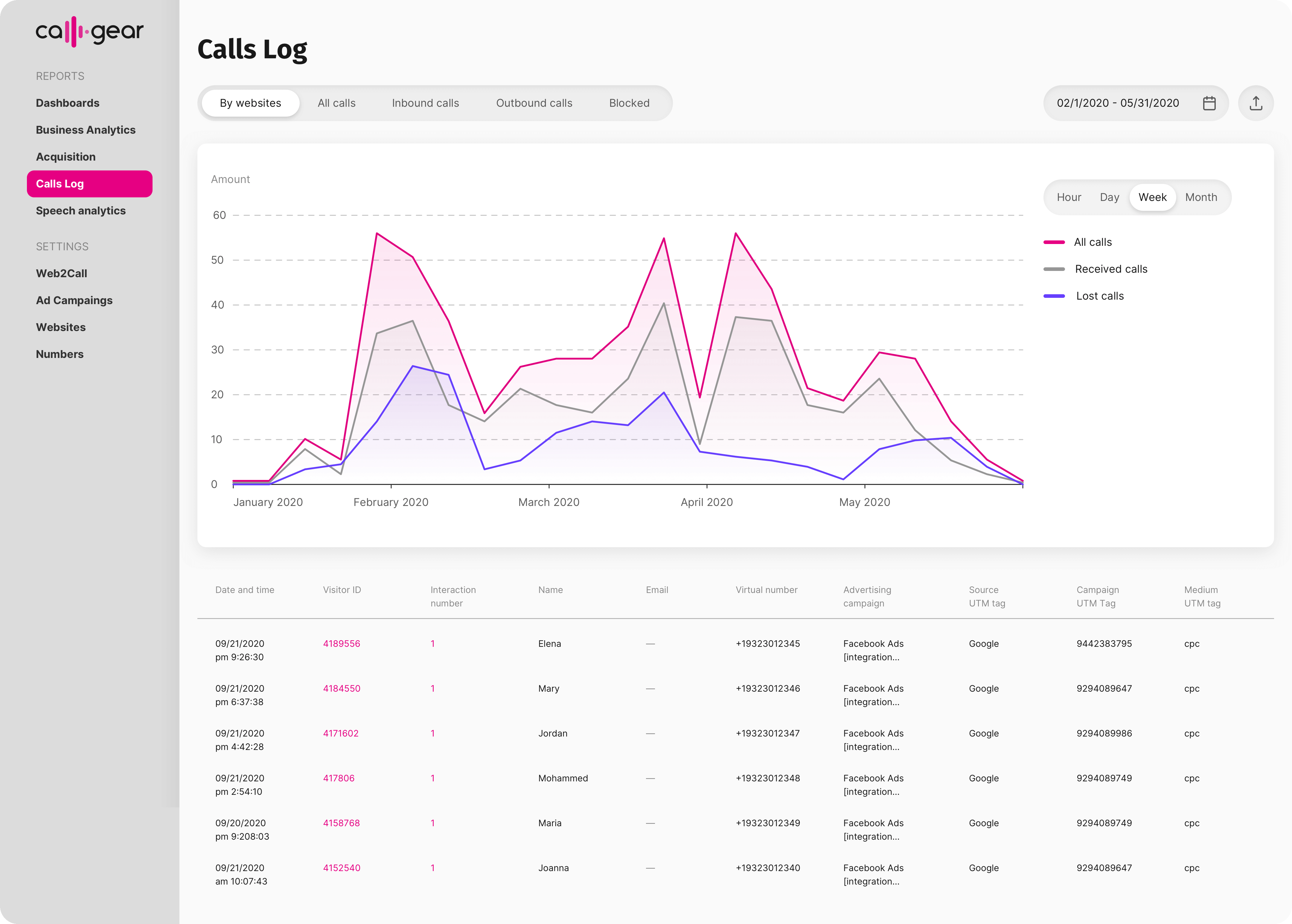 80 targeted
CPL requests: £37,5 with VAT
Conclusion:
As we attempted to revamp the way the home care was marketed, we faced many difficulties. From the pandemic, to competition, to a more efficient call and request system, we still found a way to have a huge impact on the industry.
There was another major roadblock we were able to identify. More than 40% of requests were not targeted because a large number of people were looking for a job based on our targeted requests. They search for specific agencies or companies engaged in home care services and inquire about openings.
However, taking into account all the complexities and nuances in the digital home care space, we managed to attract 80 targeted requests for £ 37,5 each. In addition to these results, we could analyze analytics on every single call and request made to the company, so that we could track sales down to an exact keyword, ad campaign, and/or landing page.
Please don't hesitate to reach out if you have any questions on this case study or are interested in demoing our services!